Depositphotos – Complete Review
Depositphotos is an agency founded in 2009 in Florida, USA, with a business model similar to that of Shutterstock, with images sold by subscription, but it also with the possibility to buy files through the credit system, as it happens in other agencies.
To become a Depositphotos contributor, after registering on the site, you need to pass a simple admission test, sending a selection of your best works.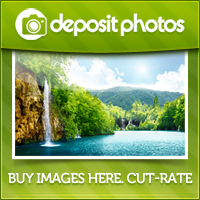 The Depositphotos reviewers are much more generous than their colleagues at Shutterstock or Fotolia: not only the admission test is a mere formality, but also the review of the images rarely gives bad surprises and the acceptance rate is (at least in my case) one of the highest among the most important agencies. After being admitted as a contributor, you can immediately begin to upload your files, either via webform on the site, or via FTP. After files are uploaded, the submission process is quite simple, but you need to select categories for the files before the final validation (though you can do it on multiple selections of files, saving much time). Review times are very short and it generally takes one or at most two days to get a feedback. Editorial images are welcome in Depositphotos and, as it also happens with 123RF, it is not necessary to mark your files as editorial before sumitting them, although it is recommendable.
---
Talking about earnings, also Depositphotos have a double system of prices. For downloads made by subscription, it starts from $ 0.30 per image (when contributor level is "green") and increases by $ 0.01 for each step of the contributors to the next levels (eg. $ 0.31 for level "bronze", $ 0.32 for level "silver", and so on, according to this schedule). For downloads made on demand through the credit system, earnings start from 44% for download at "green" level and grow by 2% for each subsequent level.
Differently to Shutterstock and 123RF, Depositphotos offers to its contributors the possibility to become exclusivists, of course with the obligation not to make available the images of their Depositphotos portfolio at other microstock agencies. The "advantage" of this sacrifice consists of higher earnings, from 50% for downloads on demand at "green" level (instead of 44% for non-exclusivists) and from $ 0.31 for downloads on subscription at "green" level (instead of $ 0.30 for non-exclusivists).
Among other noteworthy aspects about Depositphotos, beyond an interesting referral program, there is also the chance for those who have their own website or blog to sponsor Depositphotos using the API keys technology. Depositphotos supplies free subscription plans for bloggers who make reviews of the site, after evaluation of the blog itself from the agency. To the top contributors with huge high quality portfolios there's also a program that promises a $ 0.10 commission for each uploaded image.
---
Finally, launched in 2013, the app Clashot for smartphones, which allows you to take photos and send them for approval directly from your phone (iOS or Android), quite similarly to what happens with the app Fotolia Instant, published more or less at the same time than Clashot.
Ultimately, Depositphotos is absolutely a recommended agency for several reasons: although still a bit lower in popularity compared to Shutterstock, it is certainly the second agency for frequency and total number of daily downloads. Furthermore, considering the fact that the acceptance rate of the files is very high, Depositphotos is definitely the best choice you can do to start now to sell your images, while in the meantime maybe you are trying to be admitted at Shutterstock or at other more selective agencies.
Below is the table with the main informations about Depositphotos:
Logo

Website

www.depositphotos.com

Social Links/Blog

Facebook, Twitter, Google+, Depositphotos Blog

Headquarters

Fort Lauderdale, USA

Portfolio

over 40 millions (

updated

to

January

2017

)

Website Traffic Rank

by

Admission Test

Needed. Quite easy test

Image Size

Minimum 3.8 Megapixel (2400 x 1600 pixels) – max. 50 MB

Accepted File Types

Photos, Vectors, Footages

Severity

of the Reviewers

Very Low

Editorial Images

Accepted, and no specific description needed. Reviewers decide whether an image is suitable for sale with standard license or editorial

Types of Licences

Standard License, Editorial License, Extended License

Price

of the images

From $ 0.72 per single purchase with a credit or $ 0.15 for each image downloaded by subscription

Earnings for Contributors

From 44% of the downloads made with credits and from $ 0.30 for each subscription download (growing according to this schedule)

Payout Minimum Threshold

$ 50

Payment Mode

Upon request once thresold exceeded, via PayPal/Skrill

Exclusivity

From 50% to 60% for downloads made by credits or from $ 0.31 to $ 0.40 for each download on subscription, according to this schedule

Referral Program

15% of purchases with credits made by each referred customer, or $ 0.03 for each sale on subscription made by each referred contributor

Uploading Mode

Webform, FTP

Recognition

IPTC data

from file

Automatic

Currency

$

US Dollar

(

USD)

Supported Languages

Chinese, Czech, Korean, Dutch, English, French, German, Italian, Japanes, Greek, Polish, Portuguese, Russian, Spanish, Swedish, Turkish, Hungarian

Tools

Clashot App for Smartphone, Adobe Extension for customers (Photoshop, Illustrator, Indesign), Sponsorship on contributors' site or blog


Download Release Forms

Model Release
Property Release
---
Related Pages:
---
Liked this article? Would you share it?
---